Sun May 29, 2016 2:33 pm
Another HF mini. She made for a great ranger in a campaign my friends and I just finished.
Attachments

Luna Frontside.jpg (35.78 KiB) Viewed 26831 times
Wed Aug 24, 2016 4:20 pm
Here is Lenore the Sorceress made by Hassle Free.
Attachments

Lenore.jpg (93.84 KiB) Viewed 26513 times
Wed Aug 24, 2016 4:20 pm
A vile troll for hardy adventurers to pummel.
Attachments

Buhrdur.jpg (184.75 KiB) Viewed 26513 times
Wed Aug 24, 2016 4:21 pm
A young warrior, itching for a fight!
Attachments

Young warrior.jpg (105.18 KiB) Viewed 26513 times
Wed Aug 24, 2016 4:27 pm
Damn snazzy work JDizz.

~O
Wed Aug 24, 2016 9:02 pm
Thanks! I rather enjoy painting minis and using them in game has added a great deal of fun for my group.
Sun Oct 02, 2016 1:30 pm
Here is another mini I recently finished, it is Not Valeros. He is from Crusader minis Rune Lords line.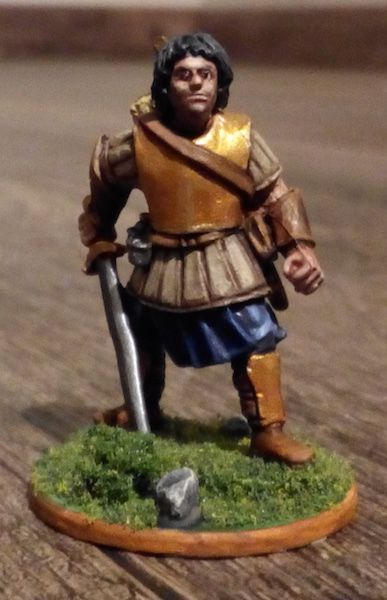 Tue Nov 22, 2016 6:07 pm
The Dark Lord cometh!
Attachments

sauron.jpg (87.99 KiB) Viewed 25871 times
Wed Nov 23, 2016 3:00 pm
Nice! I've never seen that figure before, I like the open arm stance, "Can we talk about this?" ;p
Wed Nov 23, 2016 4:33 pm
If that is Sauron, I dig it. If that isn't Sauron, I really dig it!

~O
Wed Nov 23, 2016 7:21 pm
Officially, it is Sauron. But, he will be a great stand in for any big bad villain I need for a campaign. Thanks for the comments!
Wed Nov 23, 2016 8:11 pm
Here are some 20mm Zombies I painted for DMMike. This is the first time I painted in 20mm. I think they turned out really well.
Attachments

zombies.jpg (138.34 KiB) Viewed 25833 times

zombie horde.jpg (102.97 KiB) Viewed 25833 times
Sun Dec 11, 2016 8:52 pm
A night of the undead. Watch out!
Attachments

Specters.jpg (152.93 KiB) Viewed 25599 times
Wed Jan 04, 2017 8:20 pm
Latest and greatest, Human female archer. Eat your heart out Tauriel!
Attachments

Human female archer.jpg (93.84 KiB) Viewed 24073 times
Thu Jan 05, 2017 1:49 pm
Nice!
Mon Jan 16, 2017 10:16 pm
Buttmonkey wrote:Nice!
+1 to that
Tue Feb 07, 2017 8:33 pm
A pair of ladies to prepare me for the commission for which I am waiting. I really liked these minis. One is short and toned and the other is tall and, shall we say voluptuous?
Attachments

HF viking girls.jpg (184.87 KiB) Viewed 22568 times
Mon Feb 20, 2017 8:05 pm
A half orc ranger, or a villain for hacking and slashing!
Attachments

Mahur.jpg (129.25 KiB) Viewed 22450 times
Wed Feb 22, 2017 5:12 am
Amazing work...
Mon Jun 05, 2017 5:59 am
Designed by me, printed by hero forge. Their new premium plastic is amazing. Durable and detailed. I had these 2 printed up at a cost of $30 each. That sounds like a bit, but to have a single mini commissioned by a professional sculptor would cost you about $300 dollars. I was so impressed with the quality of these prints and the detail. Painting them was also a joy as they represent me and my brother's very first RPG characters. A young fighter named Warren Kael, and a grizzled ranger named Al'Tierra.
Attachments

Al'Tierra and Warren Kael.jpg (175.85 KiB) Viewed 21271 times
Tue Jul 11, 2017 5:31 am
A wizard for your PC's
Attachments

Saruman on horse.jpg (89.97 KiB) Viewed 20843 times
Sun Oct 01, 2017 7:49 pm
A villager for the ages!
Attachments

Lady Villager 1.jpg (78.31 KiB) Viewed 19443 times
Mon Oct 02, 2017 1:26 am
Villiger, or old stern school Marm ?

Nice work
Mon Oct 30, 2017 4:54 am
Either one really. What do you need for your campaign is the real question. Here are two more. A head strong teenaged archer and her dwarf companion.
Attachments

Mirida and Dwarf.jpg (117.22 KiB) Viewed 18759 times
Sun Nov 19, 2017 6:32 pm
In a world of adventurers, some folks are needed for saving. Know your role!
Attachments

Serving Lady.jpg (94.01 KiB) Viewed 18123 times
Mon Nov 20, 2017 2:23 am
NICE
Tue Dec 26, 2017 6:03 am
Here we have my latest 2 minis, a villager carrying a child, and a grizzled veteran.
Attachments

Grizzled Veteran.jpg (90.74 KiB) Viewed 16855 times

Lady and Child.jpg (83.35 KiB) Viewed 16855 times
Tue Dec 26, 2017 3:13 pm
nice, especially the veteran
Sat Dec 30, 2017 6:22 am
You never know when you will need a barkeep and his server/maids!
Attachments

Barkeep.jpg (202.15 KiB) Viewed 16720 times
Mon Jan 15, 2018 7:17 am
The Firecaller. An orc-ish wizard!
Attachments

Firecaller.jpg (141.6 KiB) Viewed 16037 times